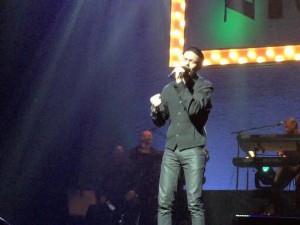 SHOWJI is a vocalist/actor/model hails and represent from FUKUOKA-JAPAN.He has been singing since he came to the US in 2010. He passed an audition for Amateur night @the Apollo theater in 2014 and he got a place to be on the stage twice in 2014 and 2015.
He also sings Gospel.He is chosen 1 of 4 male solo finalist for McDonald gospel festival 2015 from over 20,000 competitor.(No offense/no judgement for Gospel "competition")This festival is one of the biggest gospel festival in the US.
He is a cast of the children's education hit play At The Wave.The play have been performing public schools and theaters everywhere in the US. The play was recognized @ BAM (Brooklyn Academy of Music)and done performed successfully in March,2016 and off-Broadway in 2017.
ON April 26,2016 The play started TV series "Meet Me At the Wave" on every Monday eastern time at 5:30 and Tuesday at 8am. It is on Brooklyn cable TV called BRICK (Channel 34 for Time Warner/Channel 67 for cable vision/Channel 42 for Verizon Fios).
He is modeling fashion company such as J-crew(stand in on this time),well-known wedding company in Japan "La-vie photography" and Uğur Kurt photography in Turkey. He also currently has collaborated with talented designer and coordinator brand FADED NYC.